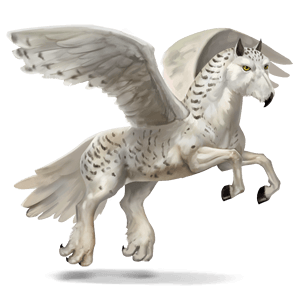 | | | |
| --- | --- | --- |
| Stamina | | 37.36 |
| Speed | | 6.09 |
| Dressage | | 43.91 |
| Gallop | | 8.54 |
| Trot | | 4.54 |
| Jumping | | 14.39 |
| | |
| --- | --- |
| Breed: Snowy owl | Age: 80 years 4 months |
| Species: Chimera | Height: 7.0 hands |
| Gender: female | Weight: 462 pounds |
| Climate: Cold | Date of Birth: 2018-12-21 |
| Trainer: minkthepink | |
Victories
Galloping race
0
0
0
0
Trotting race
0
0
0
0
Cross-country
0
0
0
0
Show Jumping
0
0
0
0
Dressage
0
0
0
0
Genetic potential
Total: 6952.22

Stamina

1599.01

Gallop

764.74

Speed

1181.88

Trot

834.26

Dressage

1320.92

Jumping

1251.40
Excellency
Stamina
Speed
Dressage
Gallop
Trot
Jumping
This mare has 639 excellence stars.
This mare doesn't have any bonuses.
Snowy owl is a Chimera horse.

Tame this horse in order to age it, train it, take it for rides, and enter it into competitions. You can also ask other owners of a Chimera horse to help you progress faster. Help others in return and increase your Chimera horse's skills.

Once tamed, this horse will give you 10 for each horse year until age 80. The reward can appear on any of the buttons for horse care when waking up.

In spring and summer, Snowy owl may refuse some of the care you try to give them and thus lose energy.

Snowy owl cannot be sold.
Tamed horses
Already 983 Snowy owl horses tamed:
Training
| | | |
| --- | --- | --- |
| Stamina | | |
| Speed | | |
| Dressage | | |
| Gallop | | |
| Trot | | |
| Jumping | | |