Puercoespín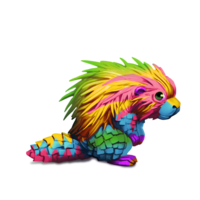 | | | |
| --- | --- | --- |
| Stamina | | 194.57 |
| Speed | | 166.24 |
| Dressage | | 201.65 |
| Gallop | | 56.71 |
| Trot | | 8.60 |
| Jumping | | 173.58 |
| | |
| --- | --- |
| Breed: Nokota | Age: 2 years 2 months |
| Species: Winged riding unicorn | Height: 14.1 hands |
| Gender: female | Weight: 789.8 pounds |
| Coat: Chestnut Overo | Date of Birth: 2022-09-19 |
| Producer: Sunny Cactus | |
Genetic potential
Total: 7497.00

Stamina

1013.59

Gallop

462.56

Speed

859.16

Trot

1719.06

Dressage

1856.26

Jumping

1586.37
Origins
Sire: Ouranos
Dam: Gaia
Nokota
100.0%
Excellency
Stamina
Speed
Dressage
Gallop
Trot
Jumping
This mare has 692 excellence stars.
Whip

dressage: +4, gallop: +9, trot: +9, jumping: +9

Pegasus

stamina: +3, speed: +4, dressage: +4

Unicorn

dressage: +15

Comb

stamina: +4, speed: +4

Hoof pick

dressage: +8

Tub of grease

stamina: +8, speed: +8

Bell boots

speed: +6, dressage: +6, jumping: +6

Spurs

stamina: +9, speed: +9, dressage: +9, gallop: +9, trot: +9, jumping: +9

Lunge

dressage: +12, gallop: +10, trot: +10

Horseshoe Studs

dressage: +12

Puercoespín

trot: +2
Unicorns are equine animals with a horn on their forehead. This horn gives them a + 15 dressage bonus.

They are bred in a distinctive way:

both parents must be unicorns of the same breed
1 covering session must be available

then you'll have a

1 in 5

chance of getting a unicorn foal.

After covering a unicorn mare, you must wait 10 hours in real-time before you can cover her again or before you can cover a potential unicorn filly.
Equestrian Center
Nokota is not registered in an equestrian center.
Training
| | | |
| --- | --- | --- |
| Stamina | | |
| Speed | | |
| Dressage | | |
| Gallop | | |
| Trot | | |
| Jumping | | |