Squirrel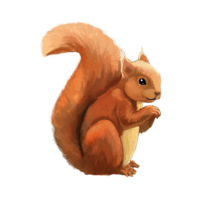 | | | |
| --- | --- | --- |
| Stamina | | 150.93 |
| Speed | | 161.05 |
| Dressage | | 99.55 |
| Gallop | | 91.18 |
| Trot | | 71.36 |
| Jumping | | 129.60 |
Victories
Galloping race
0
0
0
0
Trotting race
0
0
0
0
Cross-country
0
0
0
0
Show Jumping
0
0
0
0
Dressage
0
0
0
0
Genetic potential
Total: 4437.10

Stamina

948.61

Gallop

576.36

Speed

1012.56

Trot

451.09

Dressage

629.24

Jumping

819.21
Excellency
Stamina
Speed
Dressage
Gallop
Trot
Jumping
This mare has 386 excellence stars.
Unicorn

dressage: +15

Golden Apple

stamina: +5, speed: +5, dressage: +5, gallop: +5, trot: +5, jumping: +5

Squirrel

dressage: +2

Qilin

stamina: +15, speed: +15, dressage: +15, gallop: +15, trot: +15, jumping: +15
Unicorns are equine animals with a horn on their forehead. This horn gives them a + 15 dressage bonus.

They are bred in a distinctive way:

both parents must be unicorns of the same breed
1 covering session must be available

then you'll have a

2 in 5

chance of getting a unicorn foal.

After covering a unicorn mare, you must wait 10 hours in real-time before you can cover her again or before you can cover a potential unicorn filly.

Draft unicorns can

breed up to 3 times

during their lifetime.
Equestrian Center
Dryad is not registered in an equestrian center.
Training
| | | |
| --- | --- | --- |
| Stamina | | |
| Speed | | |
| Dressage | | |
| Gallop | | |
| Trot | | |
| Jumping | | |