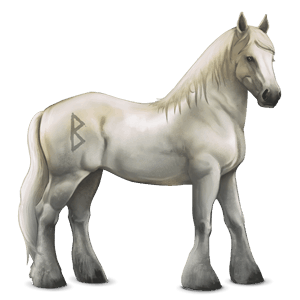 | | | |
| --- | --- | --- |
| Stamina | | 150.00 |
| Speed | | 200.00 |
| Dressage | | 150.00 |
| Gallop | | 150.00 |
| Trot | | 200.00 |
| Jumping | | 200.00 |
| | |
| --- | --- |
| Breed: Divine | Age: 160 years 6 months |
| Species: Riding Horse | Height: 14.3 hands |
| Gender: male | Weight: 783.2 pounds |
| Coat: Divine | Date of Birth: 2019-03-31 |
| Producer: IvyFeather | |
Victories
Galloping race
0
0
0
0
Trotting race
0
0
0
0
Cross-country
0
0
0
0
Show Jumping
0
0
0
0
Dressage
0
0
0
0
Genetic potential
Total: 750.00

Stamina

100.00

Gallop

100.00

Speed

150.00

Trot

150.00

Dressage

100.00

Jumping

150.00
Excellency
Stamina
Speed
Dressage
Gallop
Trot
Jumping
This horse has 21 excellence stars.
Tub of grease

stamina: +8, speed: +8
Greyfell is one of the mythological horses.

Greyfell is a divine horse who can be reborn from the ashes like a phoenix.

However, he isn't immortal, so every day he loses a little health.

If he has lived for at least 30 days since his birth or rebirth, he will give you 20 and 20,000 on the day he passes away.

You bring him back to life using Pandora's Box or revitalize him with Black Orchids.

There are 12 different Greyfell, including 2 females.

Once during your game, if you have at least one of each alive on the first day of the month, you will be able to turn one of them into Palomino Sleipnir from their personal page.

Females can breed once with a Greyfell male.

They give birth to another Greyfell.

This horse cannot be sold.

You can increase his skills by using your Passes.
Equestrian Center
Greyfell is not registered in an equestrian center yet.
Training
| | | |
| --- | --- | --- |
| Stamina | | |
| Speed | | |
| Dressage | | |
| Gallop | | |
| Trot | | |
| Jumping | | |
Competitions

This horse specializes in Classical Riding.