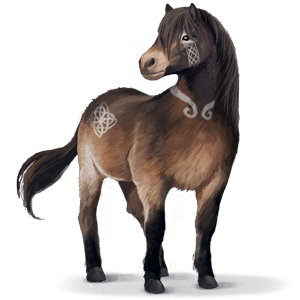 | | | |
| --- | --- | --- |
| Stamina | | 3.00 |
| Speed | | 18.27 |
| Dressage | | 3.00 |
| Gallop | | 3.40 |
| Trot | | 25.90 |
| Jumping | | 7.80 |
| | |
| --- | --- |
| Breed: Exmoor | Age: 4 years 1 month |
| Species: Wild | Height: 12.2 hands |
| Gender: female | Weight: 814 pounds |
| Country: England | Date of Birth: 2012-03-30 |
| Trainer: Shade | |
| | | |
| --- | --- | --- |
| Stamina | | 3.00 |
| Speed | | 18.27 |
| Dressage | | 3.00 |
| Gallop | | 3.40 |
| Trot | | 25.90 |
| Jumping | | 7.80 |
Victories
Galloping race
0
0
0
0
Trotting race
0
0
0
0
Cross-country
0
0
0
0
Show Jumping
0
0
0
0
Dressage
0
0
0
0
Genetic potential
Total: 1061.92

Stamina

169.90

Gallop

138.04

Speed

169.90

Trot

254.86

Dressage

138.04

Jumping

191.14
Excellency
Stamina
Speed
Dressage
Gallop
Trot
Jumping
This mare has 48 excellence stars.
This mare doesn't have any bonuses.
Exmoor


Wild horses are extremely rare and need to be tamed before they can be properly trained.

This can be a long and difficult process, but when you're done they reward you with a ton of diamonds up until 80 years old!


If you're one of the quickest to tame a wild horse breed, the horse will have a high genetic potential and the chance to be numbered.

This mare cannot be sold.
Training
| | | |
| --- | --- | --- |
| Stamina | | |
| Speed | | |
| Dressage | | |
| Gallop | | |
| Trot | | |
| Jumping | | |