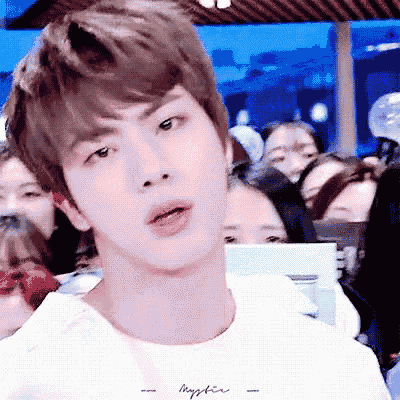 "What color is hamburger? BURGUNDY!" *Windshield

wiper laugh*

Jin/Mr. World Wide Handsome
25 || Position : Head of Visuals & Vocalist

This charmer is Jin, he is the oldest and also the wanna-be
 maknae (youngest) even though he is basically the mom of
 the group. He is a kind hearted gentleman that is open to
making new friends & has an amazing voice. Jin loves to make
dad jokes which are usually accompanied with his addictive
laugh. Some of his favorite things are eating, llamas & the

colors pink & Blue.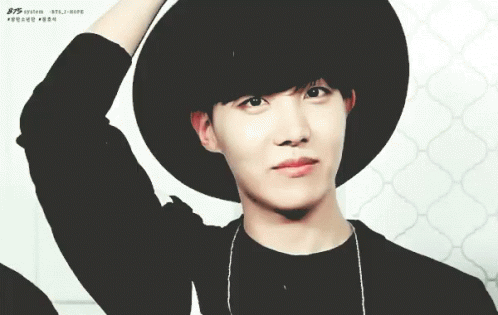 "I am your angel, I am your Hope, I am your J-Hope!"
Hobi/J-Hope - Literal Sunshine
24 || Position : Leader of the dance line & Rapper

J-Hope is... well his name pretty much says it!
This bright human being cheers up everyone he
meets! Hobi is the king of aegyo (Being overly cute)
and is a dance machine & choreographer. I LOVE THIS
MAN HE HAS HELPED ME SO MUCH .. ok I'm done...
You'll love him too <3 If you need a dose of happiness
watch this boi be himself for 5 minutes.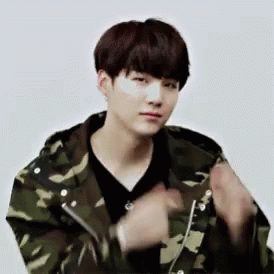 "I want to be born as a rock in the next life."
Yoongi/Suga
24 || Position : Rapper & Lyricist
Suga is the straight man of the group & he's usually sleepy.
He is know for his random outbursts of aegyo, hyperness, &
sweetness. Yoongi tries to keep up a cold front, even with the
other members, but sometimes he lets you see just how
soft he actually is. When you first get to know him you think
he's a laid back fluffy marshmellow. Which he is... until the
lyrics start flowing from his lips. This man is dangerous with

the mic (11.5 syllables per sec). But he is also completely SWAG - and... Savage.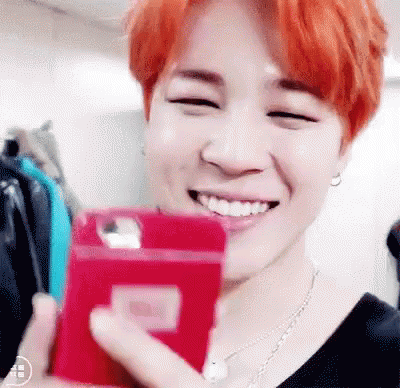 "EXCUSE MEEE" :D "Oh! You pretty!"
Jimin/Chim Chim/Mochi
23 || Lead Vocalist & Dance Line (Best friends with Tae,
trust me this is a full time job)

ARMY... You all know that we must protect this precious
mochi. The cutest thing is when this boy gets embarrassed.
Jimin is precious & gentle; but he's also of the maknae line, so
that means he sometimes instigates the trouble.

Chim Chim is the romantic out of the group, he is always

sending sweet & encouraging messages to us. This member
of BTS is basically the sweet baby of the family.
"My mental age? Three" *Holds up three fingers*
Taehyung/V/Tae (Tae)
22 || Potision : Lead Vocalist & Visuals (Jimin's best friend)
V is noted to get into more trouble than even the youngest!

He is a prankster & he's completely random. Don't ask me
to explain him because it's impossible, nothing he does

makes any sense. XD But you just love this guy. Tae's always
in for time with kids & innocent fun. His smile lights up the
room. V is a living, walking meme and he is completely ok

with that.
"Whoa... Is that a real camel?!"
Jungkook/Jungkookie/Kookie/Golden Maknae/Bunny/Kokonut
Also, my bias. Please do not touch :3

21 || Position : Lead Vocals, Dance, & Rap - Maknae
Kookie is a complete troll. And a question many ask IS

HE EVEN THE MAKNAE?! *cough* anyway, this boy is

a complete dork. He's is the typical "Evil Maknae" but

he isn't always villainous, some of the songs he has wrote for

the members of BTS and ARMY have brought tears to

our eyes. This crazy kid is special. He is talented at anything
he puts his hands too, and even tho he picks on his Hyungs
(Older members of BTS) he loves and respects them.