I love Kpop please friend me if you do too!
I am a canadian player who loves animals and I am currently learning korean, because you know since I spend most of my time listening to kpop or watching   k-dramas or korean tv shows such as Running Man may as well know what they are saying/singing about.
I would like to Thank All the players who helped me out in the World Championship Challenge!
I love all creatures real and imagined like Unicorns and Dragons, 
I'd like to Friend all players who have "dragon" in their Log in Name. Horses, Dogs, Cats, Fish and Bunnies make me very Happy Too! 
I accept most Friend Requests,Thank You!
I got my first 
winged unicorn
 from Ashlyn7 today!!!

I also got a 
cute donkey
 and 
4 amazing GA horses
 from her too! Thanks so, so, much!

Ashlyn7 is kind and generous and I will never, ever, forget her!!!!


  Good Luck to everyone in the Lottery!
I would love to trade tickets with you!
Just send me 1 and I`ll send you 1 back!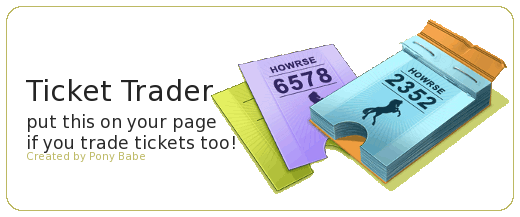 A really big ``thank you`` goes out to my friends who have returned 

tickets during the lottery!



Only
 horses 
IN 
the For Sale Tab 
ARE
 for sale.
 Thank You!
If you could please congratulate me I will try very hard to return the favor, Thank You!. 


I made it to 5th!!!! I can not believe it!!!
 on September 14th and again October 18th 2014! Woot! Woot!
Thank You ALL so, so, so, Much!  


Only
 horses
IN
the For Sale Tab
ARE
for sale.
 Thank You!