[Info] Companion coats Gallery
say hi 1, afraid all my german sheps will be staying with me!
I may be mistaken, but personal advertisements are not allowed in the public forums...

Hmm..I haven't found rare ones in the Sales. Only 300 use and aboves.
Oh! My apologies, say hi 1! I re-read your post and you meant companion coats, not a real life dog! Sorry!
These are the ones I have (not for sale as they are on my favorites). Now I kinda wished I had gotten more..oh well

Hoping this works.
Mites' Girlfriend-30uses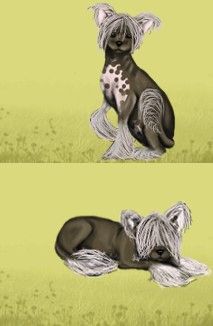 chinese crested-45uses
Pirate Kitty-39uses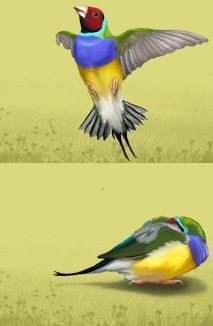 Lady Gouldian-1074uses
aww Lady Gouldian-1074uses is one of my faves too very pretty coat

Posted messages: 6,110
Karma: 10 points
Picked up sme new coats today. Hopefully none are extras. I bought based on what I thought I had.

Because I didn't want to change the way I sort my RC's and GA's I've come up with adding the pet specis and number of copies to the end of the horses name. If there isn't room, I''ve just abbreviated something. It will take me to get them all labled up, but at least I should be able to tell roughly what I have without going to every horses page. I know it's not ideal but it was the best I could come up with

I have begun to add "RC __" to the end of my *very* small collection of RCs....I'm also naming them with the coat name, for identification. I'd rather name them something more creative, but it will probably be helpful once my collection grows a bit...

I don't have a knack for finding companion coats under 300 uses....

I have a Shetland Sheepdog companion coat on my Lusitano, Gunther.

Posted messages: 17,540
Karma: 10 points
Been super busy working at my externship and just coming home, eating dinner and going to bed....

....finally managed to find more than 2 minutes to get on the computer.
Found this cute monkey tonight

Nice monkey.

Quick q, do you all change the number from one comp coat to the other to get the one you want to post? If that is the easiest way, I need to bookmark a companion so I can post my new buys from iPad.
I have an extra of "carrot monkey" by DagB. 36 uses.
Nice find, Shoofly! I need to add that one to my own collection eventually.
Posted messages: 3,928
Karma: 10 points
Thanks! I was pretty surprised to find that one since the uses are so low. Off to hunt for some more treasures.

How do you figure out how many times a companion coat's been used?

The only 1 I know is the pumpkin squirrel I have on US howrse is only like 1 use. The rest I didn't check when I bought them.
Lol, i have used so much money buying companion coats. too bad i can never find any good ones any more.
Posted messages: 2,267
Karma: 10 points
violetblue123, use the creations directory, Community>Directories>Creations>Companions>more criteria>click the animal you want to check.
I'm still checking/renaming coats to include the companion/numbers - but it's taking forever! Most are in my Retired Coats with HR tab, as they would be. Some in straight HR coats. and a few scattered elsewhere.