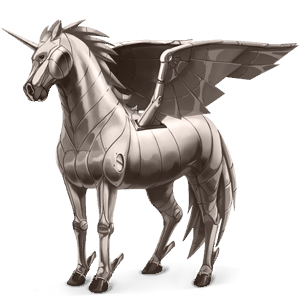 | | | |
| --- | --- | --- |
| Stamina | | 5.39 |
| Speed | | 6.31 |
| Dressage | | 4.81 |
| Gallop | | 1.92 |
| Trot | | 7.63 |
| Jumping | | 3.31 |
| | |
| --- | --- |
| Breed: Standardbred | Age: 5 years 8 months |
| Species: Winged Unicorn | Height: 16.1 hands |
| Gender: female | Weight: 1124.2 pounds |
| Coat: Chestnut | Date of Birth: 2012-12-14 |
| Producer: Retired breeder | |
Victories
Galloping race
0
0
0
0
Trotting race
0
0
0
0
Cross-country
0
0
0
0
Show Jumping
0
0
0
0
Dressage
0
0
0
0
Genetic potential
Total: 442.59

Stamina

82.55

Gallop

29.40

Speed

93.01

Trot

113.32

Dressage

73.67

Jumping

50.61
Origins
Sire: Disappeared horse
Dam: Disappeared horse
Standardbred
100.0%
Excellency
Trot
This mare has 2 excellence stars.
Whip

dressage: +4, gallop: +9, trot: +9, jumping: +9

Pegasus

stamina: +3, speed: +4, dressage: +4

Unicorn

dressage: +15

Metal Element

stamina: +8, speed: +8, dressage: +8, gallop: +8, trot: +8, jumping: +8
The unicorn is an equine animal with a horn on its forehead. This horn gives them a dressage bonus.

To be able to cover a unicorn, both parents must be unicorns of the same breed and you must have a unicorn covering session available.
If you follow all of these rules, you have a one in 5 chance of getting a unicorn.

Once you cover a unicorn mare, both the mare and the potential unicorn filly will need 10 real hours before they can be covered.
Equestrian Center
~

M

e

t

a

l

l

i

c

M

a

c

h

i

n

e

~

is not registered in an equestrian center.
Training
| | | |
| --- | --- | --- |
| Stamina | | |
| Speed | | |
| Dressage | | |
| Gallop | | |
| Trot | | |
| Jumping | | |