Help for the equestrian center
1 / Create and manage your equestrian center
> 1.1 - General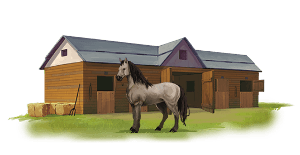 Create and manage your equestrian center to:
Welcome boarded horses
Offer pasture land
Grow many products
Craft useful items for your equestrian center and breeding farms
Create and manage your competitions
Access is granted when you complete the apprentice breeder objectives.
> 1.2 – Location
When creating your Equestrian Center, you must select where you would like it to be located. There are 3 possible locations:
Depending on the location of your Equestrian Center, your boarders will progress faster when doing certain rides:
Forest rides, if your center is located in a forest
Beach rides if your center is located at the beach
Mountain rides if your center is located in the mountains
Also, each equestrian center location comes with a specific resource that you can obtain from the missions completed by your boarders. These resources will allow you to craft most items sold at the store.
Location
Resources
Forest
Wood
Mountain
Iron
Beach
Sand
> 1.3 – The store
At the store, you will find everything necessary to operate your equestrian center spread throughout the different departments:
Enhancements where you will find items that improve meadow output, or that make your boxes more comfortable
Agriculture where you can purchase seeds and fertilizer for use in your meadows when growing crops
Resources where you can purchase all the ingredients required to craft the items you need to run your equestrian center. This is also the place where you can purchase bedding for your boxes
Food and Equipment where you can purchase food and equipment, then make them available to your boarders instead of using them on your own horses
Boxes, workshops, meadows and greenhouses can be purchased from the page where they are used. Racetracks and calves (depending on your equestrian center specialty) are purchased from the competitions page.
On the store page, you can also check your inventory or sell items if you want to. However, you will not be able to sell racetracks, boxes, meadows, greenhouses or workshops installed in your center.
> 1.4 – Boxes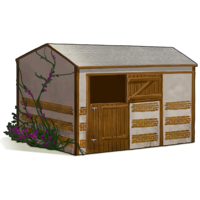 You can house one boarder per box. The number of boxes you can purchase from the store is determined by your seniority in Howrse, specifically, you can purchase one box per two days of seniority. If you build them in your workshops however, you can acquire as many boxes as you wish.
There are various boxes with different sizes. As they are more comfortable for the horses, the bigger boxes provide more morale to the boarders when they wake up.
Box quality also affects your equestrian center prestige.
Bedding
You need bedding in your boxes to house a horse or a pony. Head to the equestrian center shop in order to buy bedding. Once bedding stock is created, it will be shown to the right of the shop page in your inventory. Visit "The boxes" page and select the bedding that you would like to use; you can only select bedding that you have enough of in your inventory.
When you buy a new box, it comes with bedding according to the bedding type you have selected for use in your equestrian center.
Each day, bedding in boxes where there is a boarder ages. After 7 days, it is automatically removed during the daily website update at 07:00, and is replaced by clean bedding if you have enough of it in your inventory. If you do not have enough bedding, your boxes will be left without bedding and your prestige will fall. Check your stocks regularly.
The bedding that you choose for your boxes also affects your boarders. Indeed, the better the quality of bedding used in a box is, the more energy a horse will gain and the less morale it will lose when spending time there.
Repairs
Your occupied boxes gains 1% wear every day. You need to repair them before they reach 100% wear.
A

icon is visible next to a box's wear and can be used to repair it. The cost of repairing a box depends on the box's level of wear, the box quality and the enhancements available in it.
If you don't repair a box, it'll become unusable upon reaching 100% wear and will stop counting towards your equestrian center prestige. Also, if a horse was boarded there it'll be evicted. Your Equus balance will then be debited of the remaining boarding costs to refund the horse's owner. You can repair a box at any time in order to accommodate boarding horses again.
Reservations
If you want to save a box for a specific player's horses, all you need to do is to reserve one or several boxes through the "reserve this box" link.
> 1.5 - Meadows
Land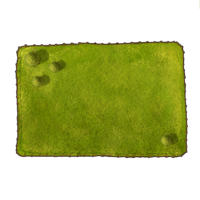 You will have to purchase meadows from the equestrian center store. These meadows will be used as pasture for your boarders and to develop some agricultural activity. Which is an important source of income. Meadows sold at the store have different land surfaces.
Fertility is crucial as it will determine the yield of your crops. It will be taken into account for the quality of your meadows displayed on your equestrian center page, and horses put out in a more fertile meadow will eat more free fodder. The latter point will have consequences on the spending of the owners who board their horses at your equestrian center.
Whether you choose to turn a meadow into a pasture, raise cows or grow crops on it, it will lose fertility when used.You will need to lay the meadow fallow in order to recover its fertility.
The fertility of a meadow increases by 1% for each day that it lies fallow in spring or fall, by 3% in summer, and by 0.2% in winter. Land that lies fallow in winter will only slightly increase in fertility.
Pastures for the boarders
Your pasture land area must be equal to your number of boxes in order to meet the needs of the horses boarded in your equestrian center. For instance, a center with 10 boxes must have a pasture land area of at least 10. Remember that it is advised to have more meadows available in order to grow them or put them fallow, in order to allow the soil to rest and to restore its fertility.
Agriculture
You can have 6 meadows growing crops or with cows on them at any time, whatever the size of your equestrian center or meadow.Crop availability and yield is impacted by the season.
If you have a greenhouse, you can sow the seeds you want at all seasons without limits other than the limitation of crops to 6 meadows, taking into account that the greenhouse counts as a meadow. However, you can't grow apples or passes in the greenhouse.
A greenhouse's wear increases by 1% per day when it is being used to grow crops.
A

icon is visible next to a greenhouse's wear and can be used to repair it. The cost of repairing a greenhouse depends on the greenhouse's level of wear and its size. If you do not repair your greenhouse, it will become unusable upon reaching 100% wear and the current crop is lost. You can repair a greenhouse at any time in order to keep using it.
Available crops
Seed
Plantation season
Crop growing duration
Harvest
Carrot seeds
Spring
9 days

Carrot

Wheat seeds
Summer
9 days

Wheat bran

Straw

Oat seeds
Spring
11 days

Oats

Pass seeds
Fall
30 days

Pass

Apple seeds
Fall
A harvest every Fall

Apple

Flax seeds
Spring
8 days

Flax

Alfalfa seeds
Summer
7 days

Fodder
During wintertime, you can't grow anything unless you own a greenhouse. If you do, you will be able to grow anything you like, except for apples and passes.
To earn money, you can sell your crops at the store.
You can also:
make carrots, oats, and fodder available to your boarders in order to receive more prestige
use wheat bran and apples to create mashes
use straw and flax bedding in your boxes
To start a crop in a meadow:
head to the Equestrian center and purchase the seeds and fertilizer you want
head to the meadows page
if the meadow can be used, click "Lay Fallow" then "Grow Crops"
select the seeds and fertilizer to use on this meadow
validate and the meadow starts growing crops!
Note that the use of fertilizer will reduce the number of days to maturity.
Once the harvest is over, the meadow will lie fallow to let the ground rest. You can then use this meadow to grow crops again, or for pasturing horses boarded at the equestrian center.
Raising cows
You can also raise cows on your meadows and use them to obtain leather. The number of meadows on which you can raise cows or grow crops is restricted to 6. Thus, if you already have 4 meadows or greenhouses currently growing crops, for example, you can dedicate no more than 2 meadows to raising cows.
As is the case with horses, cows require one hectare each. A small meadow is 5 hectares large and can support 5 cows.
When raising cows, you can obtain leather after 30 days. The meadow then turns fallow and you can start raising cows again.
There are two types of cows, each with a specific leather yield.
> 1.6 - Workshops
Workshops allow you to make all types of buildings and all the items you will need in your equestrian center or breeding farms, except for resources and farm products. Your equestrian center comes with a small workshop when you create it. Later on you can add other workshops, either by purchasing them or constructing them in the workshops you already own.
Production
The number of workshops you can use simultaneously depends on the prestige value of your equestrian center:
Between 0% and 20% prestige: 1 active workshop
Between 20% and 40% prestige: 2 active workshops
Between 40% and 60% prestige: 3 active workshops
Between 60% and 80% prestige: 4 active workshops
Between 80% and 100% prestige: 5 active workshops
Production duration and required resources depend on the items you want to craft.
Repairs
A workshop's wear increases by 1% per day, whether it is used or not.
A

icon is visible next to workshop wear and can be used to repair it. The cost of repairing a workshop depends on the workshop's size and level of wear.
If you don't repair a workshop, it will become unusable upon reaching 100% wear and any ongoing production is lost. You can repair the workshop at any time in order to keep using it.
2 / Make your equestrian center prosper
> 2.1 - Boarders
The cost of boarding
Your equestrian center can welcome boarded horses. You can choose the boarding cost per horse per night via your center's management. This cost must be between 20

and 200

. However, when you board your own horses in your center, you pay nothing and your center earns nothing.
Minimum skill requirement
You can set a minimum skill requirement for the horses boarded at your center. This is done in your equestrian center's management. Only horses with this minimum skill set may be registered with your center. Note, however, that this also concerns breeders for whom you have reserved a box. If their horse does not meet the minimum requirement that you set, they will not be able to register with your center.
Boarding expiration
Once their boarding period is expired, boarders leave the equestrian center just after the daily website update at 07:00.
Extending a stay
Check your management for news on a regular basis. You will find boarding extension requests from breeders who have a horse boarded at your center, and you will be free to accept or refuse these requests.
The influence of boarders on prestige
The horses that you are housing have, of course, an impact on your center according to their number, but also to their best skill.
> 2.2 - Benefits for boarders
You can make different food products and tack items available to your boarders via your equestrian center's management office.
When you make one of these products available, your boarders have free use of this product from your inventory for the entire duration of their stay.
In order to be able to make a product available to your boarders, you must have a certain amount of it in your inventory, depending on how many boxes you have, and ensuring you always have enough left. The minimum quantity needed for each product is shown on your management page.
Item
Quantity required per box
Saddle
1
Bridle
1
Saddle blanket
1
Ear Bonnet
1
Polo Wraps
1
Carrot
15
Mash
15
Fodder
150
Oats
75
Also, in order for an item to appear in the lists of advantages on the equestrian center registration page, you need to have twice the required quantity in your inventory.
> 2.3 - Enhancements
Box enhancements
In order to make horses boarded at your equestrian center more comfortable, you can acquire enhancements and place them in the boxes of your choosing:
water trough: when watered, horses with a water trough in their box will earn 4 times more energy and morale than horses who don't have one available.
shower: when performing actions, horses with a shower in their box will spend 10% less energy than horses without a shower available.
You can only add one shower and one water trough per box.
Offering showers and water troughs increases the prestige value of your equestrian center.
Meadow enhancements
In order to improve the yield of crops and cows in your equestrian center, you can obtain enhancements and add them to the meadows of your choice:
feed trough: if you raise cows on a meadow where a trough is present, your cows will produce 30% more leather.
tractor: having a tractor on a meadow increases crop yield on that meadow by 50%
You can only have one feed trough and one tractor per meadow.
> 2.4 - Missions

Your equestrian center can offer missions. The owners of the horses boarded in your equestrian center will decide whether they want to take these missions or not.This will allow them to earn a certain amount of Equus and to receive skill points for their horse. This reward in Equus will not be taken from you, you will have nothing to pay.
Mission rewards depend on the prestige of boarders in your equestrian center. However, the number of missions your equestrian center can offer each day is unlimited. Only normal horses are counted in the calculation.
Also, whenever one of your boarders completes a mission, you receive a certain amount of Equus or resources depending on the best skill of that horse. It is you who decides on the portion of missions that provide Equus (lesson) or resources from your equestrian center management. The type of resource obtained depends on where your equestrian center is located:
Forest: wood
Mountain: iron
Beach: sand
Please note that the quantity of resources you can obtain from missions is limited by resource supply. This supply replenishes on a daily basis, according to the prestige of your equestrian center and can't exceed 2000 units.
When one of your boarders completes a mission that gives resources as a reward, the reward is doubled if a draft horse was used.
> 2.5 - Competition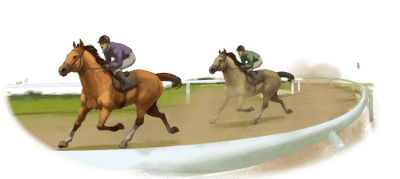 You can organize competitions in your equestrian center. When the top-ranking horses on Howrse join in your competitions, your center's prestige increases!
You can set different parameters to determine which horses will have access to your competition.
You need 5 participants for each competition. Competitions begin automatically a few minutes after registrations are closed. Registrations open again between 1 hour and 24 hours after the last contest took place, depending on the type of competition. As long as there are no registered horses, you can modify the minimum level or the course of your competitions through the competitions page in the equestrian center menu. If your competition has not been run for more than 5 days, you can modify it even if there are registered horses.
Classical Riding Competitions
If your equestrian center specializes in Classical Riding, you can organize:
speed races (trot or gallop)
cross-country competitions
show jumping competitions
dressage competitions
When organizing cross-country, showjumping and dressage competitions, before any horses can register, the difficulty of the courses you build must meet the minimum levels in stamina for cross-country competitions, showjumping for showjumping competitions, and dressage for dressage competitions.
When you create your equestrian center you receive a small race track you can use to schedule one speed race per day. You can purchase a second one from the competitions page later. Each equestrian center can have up to 2 race tracks. To earn optimum prestige, you need to organize 2 races and therefore have 2 race tracks.
Western Riding Competitions
If your equestrian center specializes in Western Riding, you can organize:
barrel racing competitions
cutting competitions
trail class competitions
reining competitions
western pleasure competitions
When organizing reining and trail class competitions, before any horses can register, the difficulty of the courses you build must meet the minimum levels in galloping for reining competitions and dressage for trail class competitions.
Organizing a cutting competition requires calves when creating or editing your competition. When you create a competition you receive your first calf for free. The number of calves determines the minimum stamina requirement for horses that register.
Competitions for low-level horses
You can make reservations for competitions open to low-level horses. Your competitions will gain more prestige than those which are at the same level and open to all horses, and you'll win 500 Equus every time your competitions for low-level horses take place.
Low-level horses are horses that:
have less than 20 wins
have no skills over 2420
which have no skills with a genetic potential over 3370
This value is recalculated every night.
> 2.6 - Employees
You can hire employees in your equestrian center.
Each employee provides a bonus to your equestrian center while employed there. You can hire several employees simultaneously, but cannot hire a given employee several times. You can, however, extend an employee's contract before it expires.
From time to time, you may obtain expert diplomas that have a limited duration. When this happens, all the employees currently hired become expert employees while the expert diploma is active. The bonus they provide to your equestrian center is doubled.
> 2.7 - The center's forum

As center director, you also have a forum. You can configure access to the forum as you wish, that is, either limit access to players who have a horse boarded at your center or leave it open to all players on Howrse.
This forum is your responsibility. You are its moderator, it is up to you to keep it running. You can create and configure your forum in the Office of your equestrian center.
An equestrian center forum that is open to all the breeders can be accessed via the details of the center.
3 / Advertise your equestrian center
> 3.1 - The equestrian center profile page

Your details may be viewed by all the players. You can view them in the management of the center. On this same page, you can create the presentation of your center, which will appear according to the same principle as your breeder presentation. You can edit your presentation at any time.
You can also view the details of all the other centers by clicking their name. In these details, you can compare your center with other centers and thus see where you need to make improvements so that your center can move up the ranking.
> 3.2 - The center prestige
Your equestrian center prestige is a rating showing its quality. The higher the prestige is, the more renown your center will have and the more it will attract boarders. Make sure you regularly check your center's prestige in order to progress in the rankings.
It depends on many factors, divided into five main areas.
The equestrian center's comfort
Your equestrian center's comfort corresponds to your boxes quality, and the services that you make available to your boarders. Thus it consists of:
the size of your boxes
the quality of bedding
the presence of a shower in the boxes
whether you have made food available to your boarders (fodder, oats, carrots and mash)
whether you have made equipment available to your boarders, and the quality of that equipment (saddle cloth, saddle, bridle, ears bonnet, polo wraps)
Meadow prestige
The meadows that you offer to your boarders for grazing purposes must be fertile and adequate in number.
Equestrian center capacity
The bigger your equestrian center is, and the more boarders it houses, the higher its prestige will be. The ideal situation is to have 100 boxes (additional boxes do not increase prestige), and to have an occupancy rate of at least 50%.
Boarders' skills
Obviously, the horses that you are housing also have an impact on your center prestige. The best skill of each of them is taken into account, except for special horses.
Competitions
The five competitions that your center can hold have an impact on the total prestige of your center. Be sure to check the prestige provided by each of them.
> 3.3 - Rankings
Ranking of the equestrian centers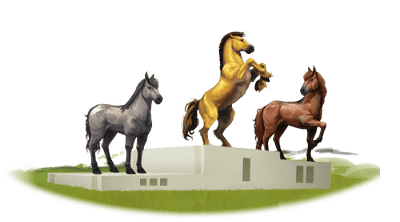 Equestrian centers are required for the game to run properly. They house the horses and allow breeders to train them. These centers have 3 types of ranking:
Prestige
the number of boarded horses
Most popular equestrian centers: this ranking is calculated based on the number of visits by different players during the previous day. It is unnecessary to visit one profile page several times, only one visit will be taken into account.
Ranking of the competitions
On this page, you can view the ranking of the most prestigious competitions, the amount of their kitty and see the centers that organize them.
The best horses on Howrse compete in these events.
To reward regularity, competitions with more than 75% worth of prestige that haven't been run for more than 5 days lose 1% of prestige per day beyond that delay.
> 3.4 - The rosettes
Equestrian center rosettes
Rosettes are rewards for horses that finish first in competitions that have more than 75% prestige. Winning a rosette gives you double the Equus!
Rosettes are a good way to make your equestrian center stand out, because they're shown on the special rosette page for all horses that have won them.
To activate your rosette, just go to your competitions page.
When I registered my horses in my center, the board and lodging was free when it shouldn't have been!
How do I repair a box?
Why can't I buy a new box?
Can I sell a meadow back to the store?
I've laid my meadow fallow and the fertility is not increasing. Why?
I can't grow my pass seeds. Why?
My competition isn't in progress. What should I do?